Lawn Lad is a local company serving our neighbors in the Greater Cleveland area.  We focus on developing healthy and resilient lawns by concentrating on soil and plant health, which allows us to reduce the use of pesticides making our lawns safe for your family and neighbors to enjoy all season long
In many cases our lawn care program is all that you will need to turn your underperforming lawn into your field of dreams. But when more work is necessary to achieve your desired lawn, our specialty is renovating old lawns and installing new lawns when necessary.  We warranty new lawns with our Lawn Development Program, ensuring your complete satisfaction.
When out of touch national companies only offer services they can spread or spray on your lawn, you are only being offered part of the solution for improving and maintaining your lawn's health.  In addition to lawn renovation and new lawn installations services, our Moss Management and Creeping Bent Grass Control services are examples of where buying local from Lawn Lad will make your lawn the envy of the neighborhood.
Lawn Care Packages:
Your overall lawn care program begins with selecting one of four service packages.  You may customize by adding other services to meet your expectations and budget. Your program needs may vary from season to season depending on the condition of your lawn and your expectations. If your goal is to rejuvenate a tired lawn you may want to select a more comprehensive package for one or more seasons, and then once you achieve the desired results you may choose to edit your program with the focus on protecting your investment.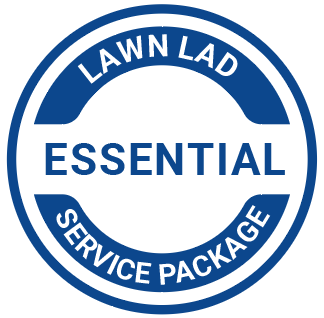 Essential service package
Your lawn will receive the basic services necessary to keep it healthy and green. Lawns that have healthy and robust soil may only require the essential services to maintain a resilient lawn.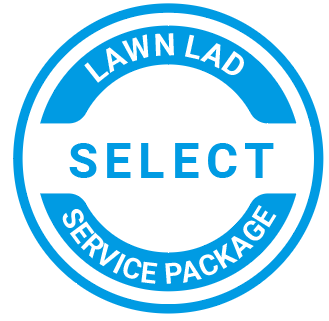 Select Service package
Beyond the necessary essential services, your lawn will benefit from a spring aeration to improve nutrient uptake and improve drainage, preventative grub control, nutsedge control and a maintenance lime application, which adds essential micronutrients that improve plant growth and thickening of the overall turf.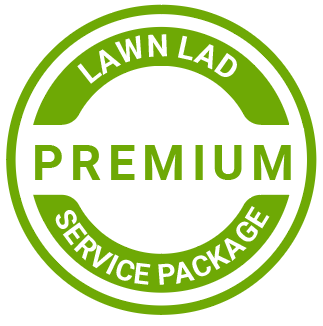 Premium service package
For the discerning lawn aficionado, the Premium Service Program provides an elite level of service to not only maintain your lawn's optimum health, but also help to correct and overcome underperforming areas of the lawn. Shady lawn areas require a different maintenance regiment which includes over-seeding to replenish thinning turf that does not receive adequate sunlight. A top-dressing application of SweetPeet® compost is timed with the over-seeding to improve seed germination, but most importantly to replenish organic matter in the soil. Your lawn will also receive a preventative surface insect control application, in addition to a fall application of organic fertilizer to further improve and build soil health.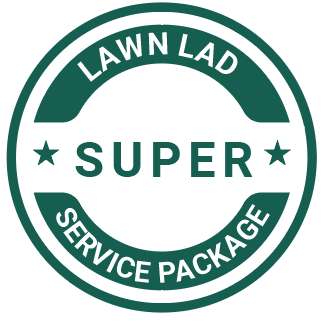 Super Service package
Take all the worry away when you select the Super Service Program. Designed for top end results, in addition to all of the services included in the Premium package, the Super Service Package dials in on maximizing soil health so your lawn will be the most resilient, robust and healthy it can be. The Super Service Package is how the pros maintain professional sports fields and golf courses for best[1]in-class care. We begin with a soil test to monitor pH and ensure optimal soil chemistry to achieve best results for your investment and repeat once annually. Spring and fall humic acid improves soil structure, water retention and drought tolerance. Mychorrhizae, a bio-root stimulant, adds beneficial fungi to the soil, which increases the size of the turf plants roots improving moisture and nutrient uptake, and also reduces the need for fungicides. To top off the Super Service Program a fungicide program helps to prevent diseases from robbing your lawn of its true potential.
Need more information or help deciding what type of lawn care package is right for you? Request an estimate, and we'll be in touch!
ARE YOU READY TO LOVE YOUR LANDSCAPE?
From Lawn Care to Landscape Maintenance and other services, we can help you achieve the landscape you've always wanted!
"I have never had a better relationship with a service provider. I consider Doug and his entire staff as my friends. They go the extra mile and do it with a smile. Their work is impeccable and I would highly recommend them to anyone needing lawn care."
– Hank R. – South Euclid, OH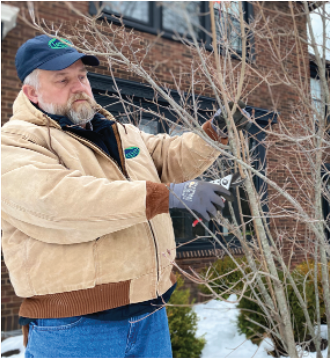 About Us
Lawn Lad is a full-service landscape company offering a range of services designed to revitalize, maintain and enhance your property - year round!
Doug Freer, President of Lawn Lad, grew up caring for lawns in the Heights neighborhoods. For over 25 years, he has managed the challenging conditions that century-old landscapes present. The Lawn Lad staff takes pride in restoring these properties with solutions to rejuvenate and renovate spaces.
Rooted in Customer Service Since 1979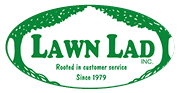 Office/Shop Address: 441 South Green Road, South Euclid, Ohio 44121
Mailing Address: 471 Chagrin River Road, Cleveland, Ohio 44040
(216) 371-1935  •  info@lawnlad.com
©Lawn Lad, Inc. 2023