Join our team
We're always looking for bright, motivated individuals to join our team. At Lawn Lad, you'll find an encouraging environment and continual opportunities to learn. We focus on safety, quality and delivering exceptional results to customers on Cleveland's east side. Our enthusiastic staff takes Lawn Lad's core values to the field. Our mission is to deliver quality services, never compromising safety, while challenging ourselves to be creative. We treat every property as it were our own.
If you're interested in joining our team, fill out this form and someone will be in touch with you shortly!
we offer more than just a job
Learn and Grow with us.
Training is a big part of what we do at Lawn Lad. Our atmosphere promotes continuous learning and cross-training. We think those are key ingredients for helping our team members succeed. We're proud to employ Certified Landscape Technicians. We do all we can to ensure our employees reach their personal goals and deliver the best service to our customers.
Landscaping is a career.
The work we do improves the lives of our customers. Their landscapes look better, and their turf, trees and shrubs are healthier. For us, delivering the best is more than a job. It's a passion. Our employees are loyal to our company because we provide them opportunities to advance and grow. When you join the Lawn Lad team, you begin a career path—and we make sure you're headed toward success.
We invest in training.
From weekly workshops to certification training, we provide our employees with the tools necessary to grow in their careers at Lawn Lad. Our customers know they can count on our knowledgeable staff, which includes licensed applicators and Certified Landscape Technicians. We know that continued education builds the character and skills of our team members.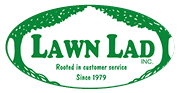 Office/Shop Address: 441 South Green Road, South Euclid, Ohio 44121
Mailing Address: 471 Chagrin River Road, Cleveland, Ohio 44040
(216) 371-1935  •  info@lawnlad.com
©Lawn Lad, Inc. 2023